Coaxial Valve RSG 380

Brass Coaxial 3/2 Way Air Valve

Suitable pressure range of 0-64 Bar

available in 1/4, 3/8, 1/2, 3/4, 1", 11/4, 11/2, 2" Orifice Sizes.

Stainless Steel is available upon request.

Flange available either Normally Closed or Normally Open, with body material in Brass.

Coaxial valves have high Flow and bi-directional flow control and are ideal for thick, viscous contaminated liquids.
SPECIAL OPTIONS
For Any of the below special options please contact us on 0800 808 7799
5/2 Way pilot valve with solenoid & Plug Laterally and above
Precision Exhaust air throttle
Special Connectors such as LED etc
Silencer 2 pieces
Oil and grease free
E1 or E2 Electrical indication
Manuel Override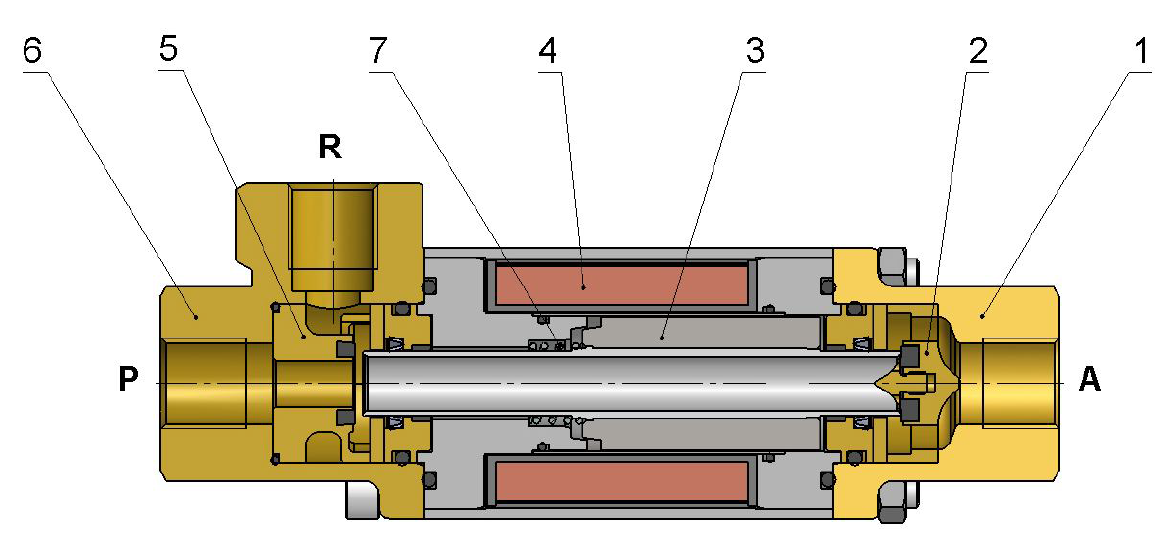 | POS | QUANTITY | DESCRIPTION |
| --- | --- | --- |
| 1 | 1 | 2/2 Adapter Fitting |
| 2 | 1 | 2/2 Valve Seat |
| 3 | 1 | Plunger |
| 4 | 1 | Solenoid |
| 5 | 1 | 3/2 Valve Seat |
| 6 | 1 | 3/2 Adapter Fitting |
| 7 | 1 | Spring |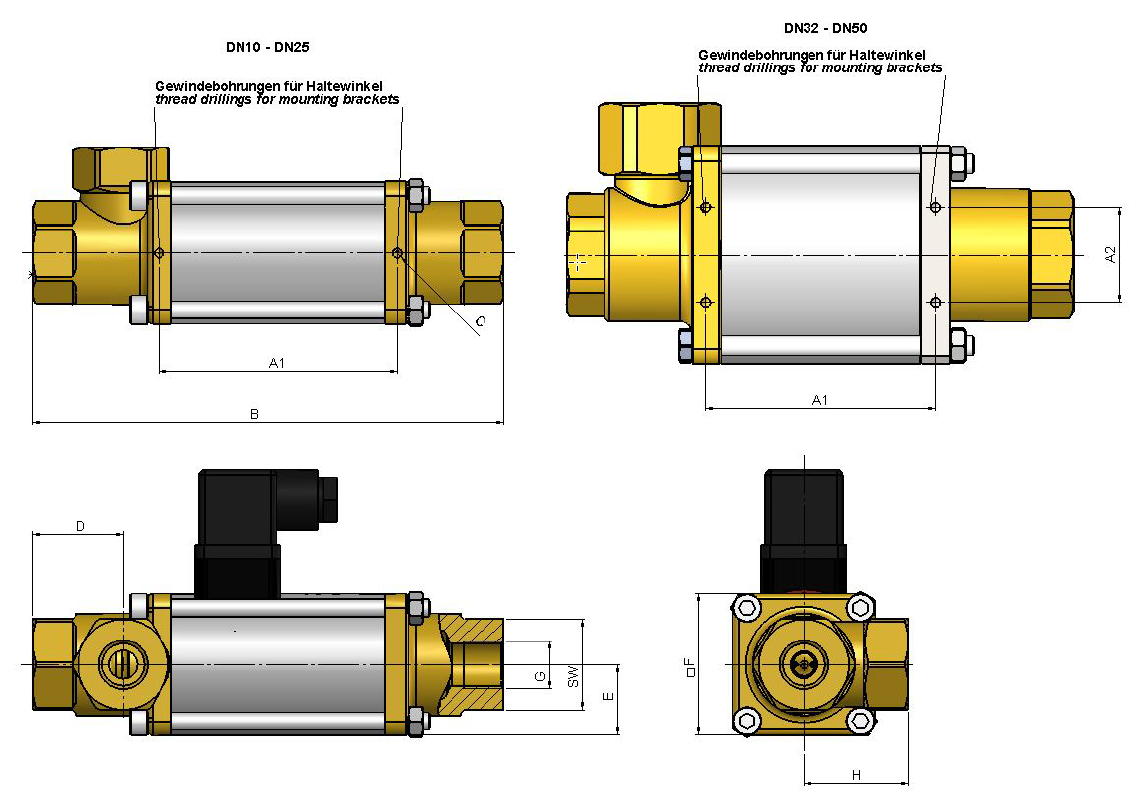 DN
G
SW
A1
A2
B
C
D
E
F
H
[mm]






[mm]

[mm]

[mm]




[mm]

[mm]

[mm]

[mm]

10

1/4, 3/8, 1/2

32

84

-

1

66

.5

M4

32

25

50

37

15

3/8, 1/2, 3/4

41

100

-

200

M5

38.5

35

70

60

20

1/2, 3/4, 1

46

108

-

228

M5

45.5

40

80

72

25

3/4, 1, 1 1/4

55

121

-

252

M5

48

45

90

80

32

1, 1 1/4, 1 1/2

60

122

50

269

M6

49.5

57.5

115

80

40

1 1/2

75

131

60

304

M6

56.5

65

130

84

50

2

75

131

60

304

M6

56.5

65

130

84

Physical Parametres
Connection
G1/4 – G2 : flange see table on data tab.
Diameter
DN 10 - 50 mm
Components
Seals
static: FKM dynamic: PTFE seat seal: FKM, PTFE
Operation
Flow Direction
P -> A max. 64bar A -> P max. 16bar P -> R max. 64bar R -> P max. 16bar
Pressure Range
0 – 40 bar
Temperature
Media: -10 up to +100°C Ambient: -10 up to +50°C
Coaxial Valve RSG 380
Product Code: 380
Availability: 100
Tags: 3/2 way pneumatic